17
Jul
Water under the bridge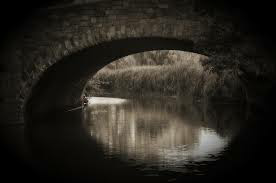 Tonight, within me a river flowing,
fighting, tugging at the river bed.
Hot and cold roots are growing,
seeds of words, that were unsaid.

Tonight, within me a river drying,
Drying , fading at the river bed.
Scared of fear and of dying,
in the world of the living dead.

Tonight, withing me a river running,
In my heart ripping its chains,
Letting go of all the poison,
That grew and flew through my veins.

Tonight, within me a River is dying,
under the shadow of grey skies,
Slowly, taking each my breath,
and trickling through the doors of my eyes.


Tonight, under a bridge I cry,
and send away my last tear.
I become who I once was
without doubt , without fear.

Tonight, a new me is born.
under the bridge of new streams.
my soul and heart are no longer torn
I have new hopes , I have new dreams.

In sha Allah!